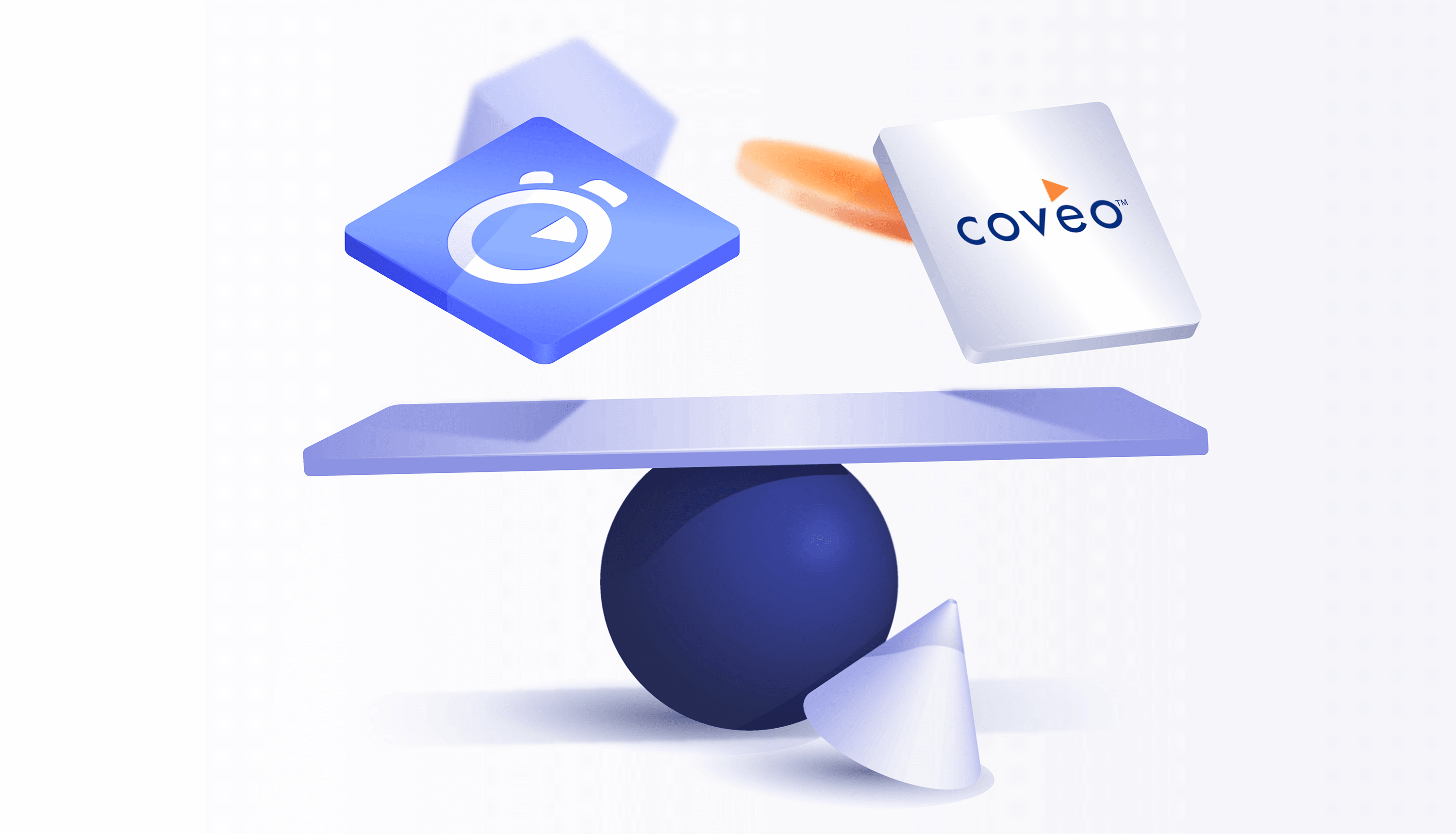 So, your site needs a great search and discovery tool. Algolia and Coveo are two popular SaaS search providers. But which product is the best fit for your business? 
Coveo is a search platform primarily designed for enterprise search, i.e. search for internal data sources and systems. Algolia provides a robust site search API (with powerful analytics and custom ranking tools) that can be tuned to a number of different consumer facing use cases 
These two services provide a number of trade-offs. In this article we'll discuss important differences between Algolia and Coveo to help you make the best decision for your end-users, business stakeholders, and developers.
Choosing the right search tool for your users
If you're ultimately looking for a search service that will improve the user experience, there are a handful of important factors to consider. Here's how Coveo and Algolia deliver on factors that matter to end users: 
Speed
Speed is one of the cornerstones of user-friendly search. If users can't quickly find what they are looking for, they are likely to move on to a competitor's site.
Coveo search performance generally follows industry standards. However, as its indexes grow and business logic gets more complex, it has been known to lag a bit. For businesses that are a bit more technologically sophisticated, Coveo has offered a number of recommendations on how to improve search response speed.  
Algolia is known for its speed and performance. Originally intended as an offline mobile search product, Algolia's core search engine was built from the ground up to be resource-light and extremely responsive. As this core technology was migrated to the cloud, users immediately noticed how snappy the API is relative to other search products. Algolia also offers real-time API status, so you can see how availability per service for the past 90 days. 
Relevance
Relevance is the second major cornerstone of search. Connecting users to relevant results drives sales, engagement, and more. Showing unrelated results (or worse, no results) only frustrates users.
Coveo provides a number of backend tools for tuning business relevance and ranking logic. Over time it also attempts to apply dynamic ranking based off of past results. However, the relevance engine can often show outdated content when historical records aren't explicitly marked as irrelevant. 
Algolia allows business users and site operators to add a lot of metadata to their products and content. As such, its relevance engine can take advantage of all of this structure and automatically provide contextually relevant content to users. In addition, Algolia provides a number of intuitive tools for applying business logic to the search rankings to ensure that results are not only relevant to users but also are what the business wants to be showing. This gives business owners the flexibility and control to fine-tune search rankings according to current priorities (without extensive developer involvement). 
Typo-tolerance
The search solution should be capable of delivering relevant results regardless of the mistakes users often make when searching.
Coveo presents a "did you mean" message to the user when a typo is entered into the search bar. This requires users to take an extra step when they make a mistake and modify their search query to get to the results they were looking for.
Algolia attempts to automatically resolve typos on the users' behalf. It also takes typos into account in its relevancy algorithm, whereby exact keyword matches are shown first and then results with automatic corrections are followed.
Autocomplete
Autocomplete is a useful way to streamline the search experience and offer suggestions that connect users to better search queries and relevant results with speed and ease.
Coveo provides various customizable query autocomplete interfaces. As data begins to populate in the system, their analytics and machine learning tools will start to recommend queries through these interfaces. They do, however, require some development overhead and the data population takes some time to complete so users initially won't be able to use it.
Algolia provides autocomplete out of the box with its search interface. The data is automatically populated and the algorithm gradually improves as the machine learning algorithms gather more information from users. The autocomplete interface can also be customized to meet various user experience needs.
Cross-device functionality
Users access sites from a variety of devices. Your search solution needs to be accessible wherever your users are.
Coveo comes with two different search interface frameworks (in JavaScript and .NET) that are optimized for smaller screens. This can provide good cross-device compatibility so that users on desktops, tablets, and mobile devices can all easily access the search tools.
Algolia is designed to handle all devices with limited custom development. The search interface is responsive and automatically adjusts to handle both large and small screens. Algolia also provides API clients in Objective-C, Swift, Android, and C# for native support.
Personalization
Though a well-optimized search solution can certainly feel personalized, employing personalization tools can elevate the user experience even more.
Coveo provides tools to allow site operators to customize the search experience based on user-specific attributes such as device, location, and profile information. The backend can automatically reorder content based on these factors but the front-end must pass this information explicitly as query parameters.
Algolia automatically provides all the information necessary to deliver personalized results. The configuration process then allows operators to simply specify which attributes and actions are important in the ranking process. For instance, you can specify the importance of various user preferences such as the categories they often search for or purchase so that they're more likely to find these products next time they explore the site.
Direct voice search support
With the rising popularity of voice search, your site search solution needs a solid grasp on this functionality.
Coveo has an integration with Voicify, which allows them to support a voice interface for their users. This requires also purchasing Voicify. Through the integration, users can also connect through digital assistants such as Alexa and Google Assistant.
Algolia provides a conversational search experience out of the box that is included with all of its service offerings. It also has integrations with third-party digital assistants so that users can search via voice no matter where they are or what system they are using.
Choosing the right search tool for your businesses
To make smart business decisions and reach KPIs, business users need to be able to understand and use the search tool. They also need to be able to analyze and leverage data from the search tool to drive search and business improvements. Here are a few essential factors that shape the experience for your business team:
Transparency in search analytics
Coveo provides standard usage analytics, including metrics such as queries, clicks, and custom events. This can be extended to handle a lot of different attributes, but that does require custom development. Coveo also provides backend reporting tools so that business analysts can graph trends of these metrics and events over time.
Algolia measures as much as possible about users and automatically dissects this information so business users can quickly find and analyze their important KPIs. For instance, the Algolia Search Analytics tool tracks searches that returned empty and automatically groups them together into related searches so that you can quickly determine common queries that are not returning results. This is invaluable for not only search algorithm optimization, but also content creation and product curation. 
Control business strategy with easy-to-understand metrics
Once a business user has extensive metrics about their content and product offerings, it's important that they can use this information to adjust strategy to change the offering and/or promote different products. Coveo provides a number of tools for re-ordering results, adjusting the look of results, and displaying banners. Unlike Algolia, however, it lacks a simple user interface for adjusting these parameters, which can be a drag on iterative testing. Algolia also offers first-class tools for online merchandising, helping you create the best possible e-commerce experience for users.
The "White Box" approach
Many search as a service providers and businesses treat search as a black box. They don't understand how the algorithms work and only technical developers can adjust the parameters to test adjustments. Algolia takes a "white box" approach that allows users of all technical ability to adjust and test changes to the search algorithms and rules. Algolia promotes an iterative and ongoing approach to testing and process improvement.
Choosing the right search tool for your developers
Since developers will be involved with updates, improvements, and day-to-day maintenance of your search tool, it's crucial that the tool you chose empowers developers to do their job with minimal hassle. 
Coveo boasts extensive documentation, a GitHub with open source libraries, and courses to help developers understand the essentials of search and the platform. 
Since Algolia is a search as a service platform, innovation comes prepackaged and updates are instantly available to users. Instead of focusing on logistical issues or maintenance, developers can focus on tuning the end-user experience. Algolia also boasts extensive documentation and a GitHub with dozens of open source libraries for developers to utilize and build on top of. This enables developers to build any type of project and immediately take full advantage of the powerful Algolia search engine.
Choosing the best search partner for you
Choosing your search as a service provider can be tough, so it's important to consider all the stakeholders and use cases. Algolia was built to be fast, easy to set up, and general enough to fit all different types of businesses.Request a demo to see how Algolia's API-first platform can help you implement a successful site search.